Create a True or False Quiz for Free
Create your own engaging and informative quizzes using our intuitive platform. Make a whole series of questions dedicated to a certain topic or add single questions. In any case, your content will be seen and appreciated by many people.
Create a True or False Quiz
We welcome high-quality content that brings pleasure to curious people.
True or False Quiz That Inspires Learning
Our builder allows you to get beautiful results on any device. This is a great opportunity to test people's knowledge and at the same time tell a lot of interesting things. This simple type of quiz has many advantages if you approach the creation process correctly. Achieve your goals creatively!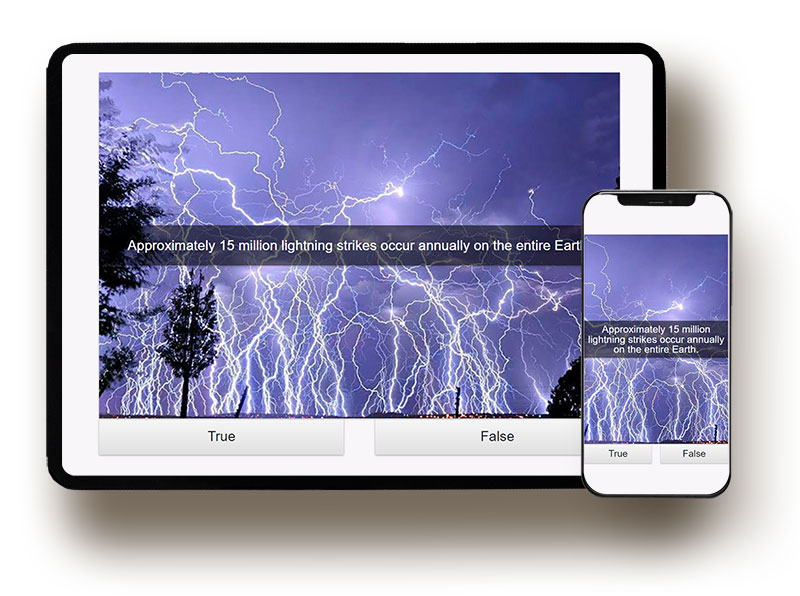 How to Create a True or False Quiz
A True/False question is a simple and effective way to test the quiz takers' knowledge. Creating a really good quiz can be a bit tricky because you need to make precise but not obvious questions. Here are some important tips for making a well-designed online quiz:
Choose a specific topic to focus on. A quiz that covers a broad range of topics is likely to be confusing and may not be as effective at testing someone's knowledge.
Write clear and concise questions. Try to keep all your questions straightforward and easy for understanding. If a statement is too confusing or unclear, it can cause controversy.
Add a beautiful and descriptive image. A good picture is very important, it allows you to attract attention and make the question more original.
Write the answer explanation and make sure it is accurate. People highly appreciate reliable and interesting information. Double-check your facts and provide sources to ensure that the information you're presenting is correct.
Include a mix of easy and challenging questions. A quiz that is too easy or too difficult is likely to be less engaging. Try to include a mix of questions from all difficulty levels to keep your audience interested and engaged.